Governor Spencer Cox visited the students of Piute High School on Monday. The visit is part of his effort to visit all of Utah's 29 counties. Earlier in the day, he also addressed students at Beaver and Parowan High Schools.
Cox was introduced to the crowd assembled in the high school auditorium, donning a T-birds ballcap. All the students and faculty were present, as well as around 20 other community members.
The governor started by talking to the students about some of the worries he had as a kid, mentioning his fear of Russia during the Cold War era. He added that he worried Russia was going to launch a nuke into his small hometown of Fairview.
He also mentioned environmental concerns of his youth — as world leaders came together to restore the Earth's ozone layer. "We got together, and solved the problem," he said.
Comments turned to the present day as Cox gave a status update on what worries him now. In the 2023 legislative season, which ran through January and February, the state passed a record 575 bills. Those bills included a pay increase for educators, and allocating more dollars toward conserving and storing more water during the worst drought since 800 AD.
The state has also prioritized housing, hoping that increasing the supply would help make housing more affordable to Utah's next generation.
The governor told the students that in recent years, Utah has been ranked among the best states to do business, and currently has the best economy in the nation in terms of employment. Cox also touted his record in cutting state taxes.
Piute student Tera Morgan asked Governor Cox what the state was doing to spur economic growth in rural areas, while most of Utah's growth seems concentrated along the Wasatch. Cox, who grew up in rural Sanpete County himself, reiterated the concern of many in Rural Utah — that our biggest export is our kids. To counter that, the state has launched a program designed to promote rural online work, and has also giving larger post-performance tax incentives to business that relocate to rural areas.
Student Hadley Morgan asked the governor how to navigate a world of fake news. "How do we know what is true?" Cox shared how he handles the news, stating that he gave up cable news years ago, opting to read the news instead. He said he avoids news outlets that are highly partisan, adding that outlets like Fox, CNN and MSNBC were particularly "problematic." He urged students to "go to the source directly."
Another student, Okley Sylvester, asked how the state prevents people from abusing welfare. Cox addressed the question only briefly, stating that the government has an audit function for that. But he went on to talk about what he calls the secret to happiness: first, having faith in something bigger than yourself. Second, family relationships, third, building face-to-face friendships, and fourth, engaging in work that serves others. He added that the welfare offered by the state should never undermine people's drive to find meaningful work.
Governor Cox then turned to a final message to students, first asking them to describe our nation with one word. The winning word turned out to be "divided." Cox said that other schools had said the same thing. He read stats that indicated that the divide between conservatives and liberals has sharpened in only a few short years. Cox said he believes Americans are not as divided as they appear to be in the news and on social media, and urged the students to understand other viewpoints better. "Our forefathers had disagreements," he said, "but they disagreed better than we do. We need to disagree better." He told the students that as they listen to the other side and understand them, the other side will be more willing to listen to you too. "We need to talk face to face and share our views in respectful ways."
– The Byway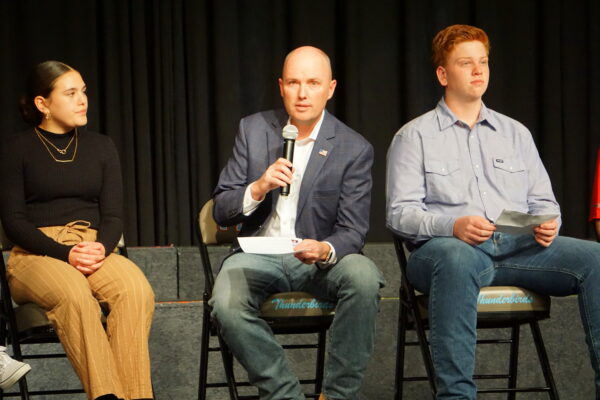 Feature image caption: Governor Spencer Cox addresses students at Piute High School in Junction on April 3, 2023.