Over the last couple of months Piute County School District has been discussing a proposal to switch to a four-day school week. Piute School District has been gathering information and taking small steps to see if the community would be interested in transitioning into this new schedule. The program is not new to Piute School District as back in the 80s and 90s, Piute High School followed the four-day week plan.
Four-Day School Week in General
So what exactly does it mean to follow a four-day school week? First the obvious fact is that students will attend school only four days in a week compared to five. Students would attend school Monday through Thursday and have no classes on Fridays. For the Piute School District, in order to have no school on Friday, class periods would be extended so kids would start and end school at the same time of day as with a five-day school week. The point of having a four-day school week is to reduce the number of absences. Fridays are known for being a travel day and many state events take place on Friday through Saturday.
The Positives and Negatives
One of the biggest positives the superintendent, Koby Willis, has found with the four-day school week schedule is that there will be less instruction time missed. Willis explains that since COVID the absentee rates went up and Friday was the most frequently missed day. He also says that it seems that because Friday is a half day currently, students feel that they won't be missing much. Willis says that "We [Piute School District] do feel like we could reduce some of the absenteeism a little bit on Fridays."
Willis also wants to make sure that students have the opportunity to give students a good learning environment and experiences. He uses the phrase "teaching the whole child" to explain this. By this he means not only teaching math, science, reading and English, but also hard work, business and society. He believes that the four-day school week will help enhance this and further help students later down the road.
One of the drawbacks is that the schedule will not fit everyone. At times it can be inconvenient for some families but beneficial for others. Willis does talk about how the four-day school week does benefit the high school students more compared to the elementary schools. If the district decided to put only the high school onto this schedule, however, a potential drawback would be that families who have students both in high school and elementary school would lose their aligning schedules. This might make it difficult for families to plan trips or other activities leading to the weekend. Willis does state that if the district does take action in switching to four days, all three schools would switch.
How a Four-Day School Week Will Affect Holiday Breaks
Every semester students look forward to their holiday breaks or just those few days off of school. One would think that because school must be in session for a certain number of days everywhere that breaks such as Christmas and spring break would be cut short. Koby Willis explains that Piute "would still be able to get the full two weeks of spring break and Christmas break would just lose one or two days compared to normal." Willis also stated that more breaks could be given, but that would cause the schools to have to start earlier in August or get out later in May. While Christmas and spring break wouldn't be as affected, the smaller breaks throughout the year could possibly be cut seeing that a break would happen every Friday.
What the Community Has to Say
To get the community involved and voice their concerns, Piute School District sent out surveys for both the students and parents. Meetings for the public have also been held so the community could voice their concerns and ask questions about the program. Back in January polls for the students and parents were sent out.
Student Poll
For the student poll, students from 4th grade up to 12th grade were surveyed. The 171 students filled out the survey answering in their own opinion and showed how they felt about the four-day school proposal. Of the students, 31% answered that they felt switching schedules would improve academic performance and 7.7% marked that it would significantly decrease academic performance.
The purpose of a four-day school week schedule is to improve school attendance. According to the students in Piute School District, 51% think their attendance in school wouldn't change. 20% said that their attendance would become slightly better and 2% said it would be slightly worse. 29% of students said that they would do better in school with a four-day schedule, whereas 11% strongly disagreed in the statement. 27% of students said they would miss less time for school activities, 17% disagreed and 38.5% had no opinion.
Overall 24% of students agreed with the school changing schedules, 19.6% strongly agreed, 18.5% strongly disagreed, 15% disagreed and 22.6% had no opinion. By the looks of the polls, the majority of the students in Piute School District wouldn't mind switching to a four-day school week.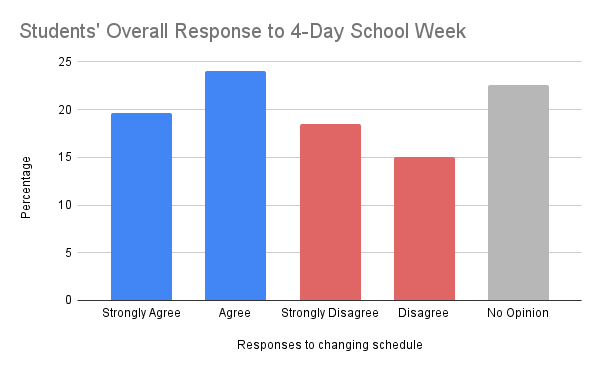 Parent Poll
On the other side of the spectrum, the parents/guardians, grandparents and community members received a similar poll to the students. Like their students, the adults had a higher percentage of agreement towards believing a four-day school schedule would have a positive influence on students. 34% of the parents marked that they thought there would be no impact on academic performance on students with a four-day school week, 28% marked that there would be a positive impact and only 5% marked the very negative impact option.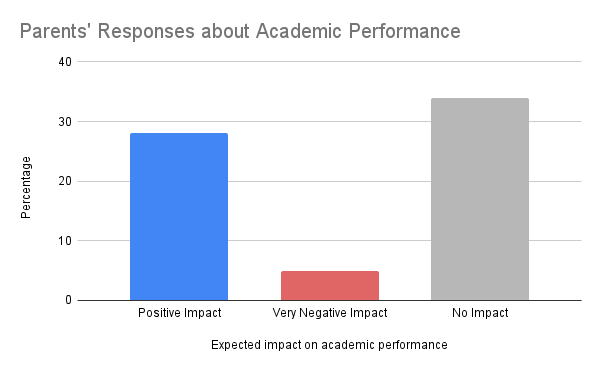 28% marked the option stating that the time students spend outside of class due to activities and travel would decrease and 10% strongly disagreed. 31% of parents indicated that there would definitely be no issue for students to get to sports practices on Fridays if there was no school transportation and only 19.6% there would definitely be an issue. 29% recorded that the four-day school would impact their family schedule in a very positive way and 10.5% recorded that it would have a very negative impact.
Other Questions about the Four-Day School Week
Some other questions asked and answered by the public showed that the majority of the community wants all three schools in Piute County to do the four-day school week compared to just Piute High School making the change. The A/B schedule should stay the same with the four-day school week. Sport events should take place mainly on Wednesday, Thursday and Friday nights. The attitudes and behaviors of students would have a positive impact with four days of school. If a Friday morning tutoring was available, their students would be able to attend. And parents wouldn't pull their kindergarten student out at half day if the school day was extended to 3:00 p.m.
What to Expect
After many public hearings, polls and research, it looks like Piute School District is slowly leaning towards switching to a four-day school schedule. The benefits are being seen by not only parents but the community as well as the students.
If the change is made, there won't be too drastic of changes. The most change that would happen is a possible earlier starting time in August, no school on Fridays, a little longer class periods and just a couple fewer days of holiday breaks. More academic achievement, attendance and behavior are all positive aspects that Piute School District hopes to gain out of the schedule change.
As the year continues more news will be released as the district comes to its final decision before the new school year.
– by Ari Hurdsman (18) Junction
Feature image caption: Piute High School gymnasiam. Courtesy ksl.
---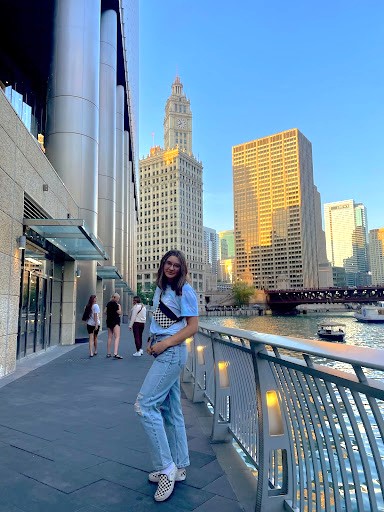 Ari Hurdsman – Junction
Ari Hurdsman is a junior journalist at the Byway. She just recently moved to Ephraim, Utah, where she is a freshman at Snow College. She enjoys writing about Piute sports, and she's really good at it! In her free time, she enjoys singing, dancing, reading and hanging out with friends and family.