On Thursday, September 29, the Childs family hosted the grand opening of their new venture, Bryce Glamp & Camp on Yellow Creek Road just south of Cannonville. The six-acre resort features 10 geodesic domes with running water and electricity installed in each with bathrooms and kitchenettes.
Previously the Childs family lived and worked in Las Vegas but have family history roots among Tropic's early settlers. In recent years they were involved in running the historic Gem Theater in Panguitch.
Currently the domes are available for rent on bryceglampandcamp.com.
This new development is among several other alternative lodging projects that have opened during the pandemic years. Since the success of Utah's Mighty Five marketing campaign, tourism has surged in Southern Utah's national park circuit over the last decade.
Recent lodging developments have come in response to increased demand for lodging, which had been throttled during the peak travel months up through 2019. The pandemic also had a surprising effect on the local lodging market as Americans fled their typical urban destinations, flocking to places like Southern Utah, even while foreign travel all but dried up.
Lodging properties in the region have suffered depressed occupancies this summer as the pandemic crowd has left, and foreign travel has not yet returned. Hopefully next year will present a return to normal for the lodging market and reveal with greater certainty how well the new lodging supply will absorb normal demand.
Some lodging types may already be oversupplied, with some resorts noticing less interest in cabins (which the Zion-to-Bryce corridor has an abundance of). Even so, the Childs family sees future success in unique lodging experiences such as geo domes.
And indeed the geo domes are charming, and the setting, outstanding.
– The Byway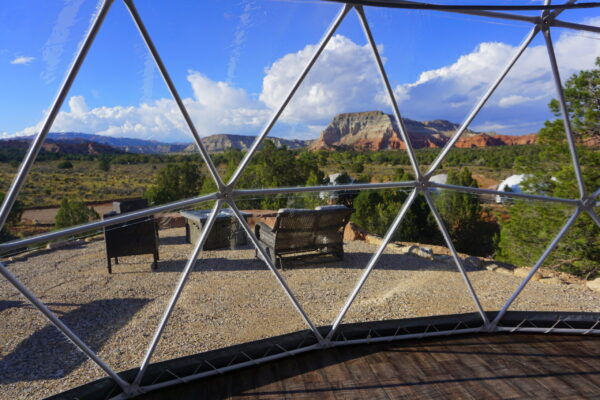 Feature image caption: The Childs Family officially opens Bryce Glamp & Camp.