Tis' the season for fairs, parades and parties. Piute County's annual Butch Cassidy Fair Week commenced on July 31, 2023, and lasted until August 5, 2023. The fair week is one of the most looked forward to events in Piute County. Not only are there things for adults to do, but for teenagers and children as well. Every year the fair consists of a water day, county dinner, bingo night, three rodeos, parade, midway and dance.
Water Day
Water day is the first event on the checklist. This day is set just for the little ones. The day features big water slides, pools for the big kids and even kiddie pools. Kids ages 12 and under were invited to the Junction Town Park at 12 p.m. on Monday, July 31, to have an eventful day with their friends and water. Don't worry. Supervision of parents, the fair commission and Miss Piute and Rodeo Queen Royalty were all present.
County Dinner
Every year for the county dinner a wonderful meal is provided as well as a wonderful entertainment show. This year the entertainment was a singing idol contest. Anyone could enter. The top three winners, however, received some cash. Judges watched and listened and at the end picked their winners. The 1st place winner won a cash price and two private vocal coaching lessons with Freedom Vocal Studio.
Grab N Growl Dutch Oven Catering made a wonderful meal of ribs, chicken, dutch oven potatoes, salad, rolls and fruit cobbler with ice cream. Games could also be found on tables as well as over at Junction park. Mechanical Bull and corn hole were some favorite games. After dinner was all done, county members could go watch a firework show that was put on near a pond just south of the Junction Cemetery.
Bingo Night
Who doesn't like bingo? With a game located at the Junction Town Park again, bingo cards were only $10 each! Not only were there bingo prizes to win, but homemade salsa from county members was provided and served by the Piute Royalty. A 50/50 raffle was also going on at the time of bingo!
Little Buckaroo Rodeo
Wednesday night was the start of the rodeo events. This rodeo is all for those little cowboys and cowgirls. The rodeo took place at the Junction Arena, starting at 6 p.m. Mutton bustin', stick horse barrels, dummy roping, wild calf ride, chicken chase and ribbon pull were the events all for the young cowboys and cowgirls. The winner of the age group [1-6, 7-11, 12-14] would win a shirt. All contestants were also given a buckle to add to the collection or start a collection. Thanks to the stock providers Stanton Gleave and Roger Westwood for making certain events of the Little Buckaroo happen.
Butch Cassidy Days Rodeo Night 1
Friday, August 4, at the Junction Arena at 7 p.m. started the Butch Cassidy Fair Week two part adult rodeo. Hide race, bareback riding, ranch ride, saddle bronc, tie down roping, barrel racing, bull riding, team roping and breakaway roping were all the events that could be competed in. At the Burger Barn, run by Jannetta Gleave and others, and the Coke Shack, run by the 4H, contestants or viewers could get something to eat or grab a quick snack.
Parade and Midway
Bright and early on Saturday morning of August 5 a breakfast was served thanks to Darin Bushman, Will Talbot and Scott Dalton. At 10 a.m., the parade commenced down Junction Main Street. The parade was a contest in itself with categories of: best-themed, funniest, hillbilly hicks and overall parade.
After the parade the midway started. Food trucks and vendors, toys, crafts, jewelry, clothing, inflatables, and games were presented for the county to enjoy. A cornhole tournament and 3-on-3 tournament also were available to compete in. The midway is a place for the small town businesses to shine and showcase their products.
Butch Cassidy Days Rodeo Night 2
The second night of the rodeo had all the same events as the first night. The only difference was that there were more people who were watching the event thanks to what else happened during the day. Around 8 o'clock that night, a dance started. With a live band, named Borderline, the music rang into the night sky, ending the Butch Cassidy Fair Week.
– by Ari Hurdsman
Feature image caption: Haylee Soffel executes a good run during the barrel racing section of the rodeo.
---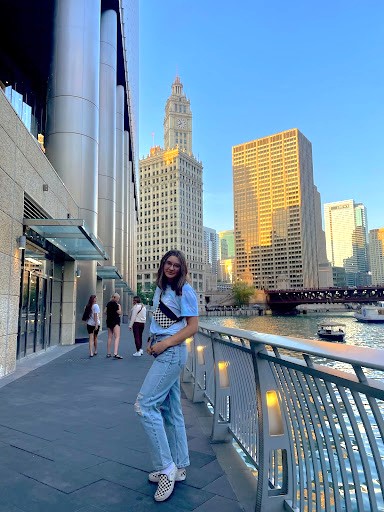 Ari Hurdsman – Junction
Ari Hurdsman is a junior journalist at the Byway. She just recently moved to Ephraim, Utah, where she is a freshman at Snow College. She enjoys writing about Piute sports, and she's really good at it! In her free time, she enjoys singing, dancing, reading and hanging out with friends and family.